Dinosaurs will no longer just be those prehistoric beasts from a land before our time or the imposing creatures we've only seen on the big screen.  Jurassic World: The Exhibition is giving you the chance to witness all your ferocious favorites IRL. You'll get to meet those gentle giants in present reality, seeing them up close like never before. Taking place across Square One Shopping Centre in Mississauga from April 14, the fascinating experience is a journey into the Jurassic World franchise that's perfect for those who want to unleash their inner paleontologist. 
Located at 199 Rathburn Rd. (near the Square One Shopping Centre), it is about a four hour ride from Ottawa. So pack up your car and escape for a weekend to this incredible exhibition. Here you'll find a prehistoric paradise with wild ferns sprouting from every corner. Golden eyes might just be glancing at you through the cavernous shadows, so be sure to keep a lookout for their rumbling roars!
Tickets have just been released: be the first to experience the spectacle of Jurassic World! 
The experience might be all your inner child has been craving (we've all shamelessly collected toy dinosaurs and day-dreamed of becoming a paleontologist) and the perfect opportunity to treat your kids to an exciting weekend out in Mississauga! The Jurassic World exhibition is a memorable experience for the entire family, as you'll come face-to-face with the deadly Indominous Rex and get your adrenaline pumping when meeting the incredible Tyrannosaurus Rex in all her hulking glory. 
Once you've had your thrills from meeting the thrilling members of the carnivorous species, how about discovering the not-so-terrifying inhabitants of the exhibition? We're talking about recreating that iconic Jurassic Park scene where you gaze up at a towering brachiosaurus! Or maybe, if you'd prefer, you can spend your time staring at the adorable baby dinos (because who wouldn't?) You'll even get to take a selfie with little Bumpy, the Ankylosaurus from Camp Cretaceous.
And of course, since there'd be no Jurassic World without the work of the geneticists, you'll get to discover the science behind it all at the Hammonds Creation Lab. While you're there, prepare to awe at the tiny parasaurolophus babies in their incubator — it sure is something to see!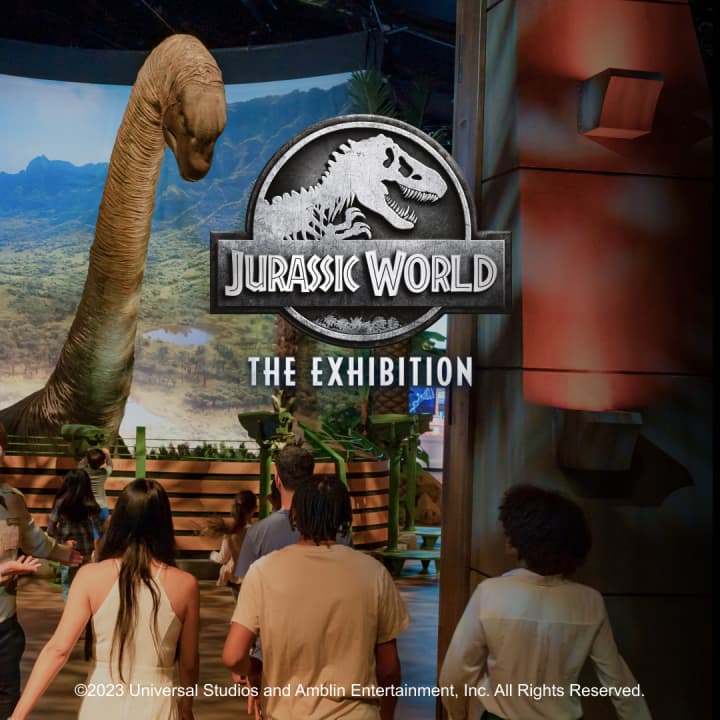 Jurassic World: The Exhibition
---